Latest News
Dear Friend

Thank you. You have played a significant part in helping 162,530 mothers and babies, and saving over 5,000 lives. Will you continue to save lives through helping Women and Children First?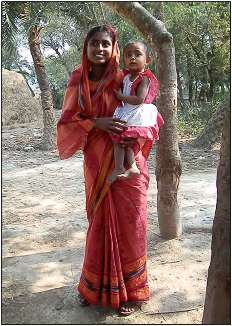 Your support has helped people like Sharmin Akter, a young Bangladeshi woman, safely deliver her baby daughter, Halima.  Because members of Sharmin's women's group chip in what they can to an emergency fund, and because they were able to recognise danger signs during Halima's delivery, the women's group were able to persuade Sharmin's husband to take her to hospital and lend him the money to get there.  Without the women's group, Sharmin's story would be very different.

We urgently need your continued support.  Look around you at all the parents you see today – you would be surprised how many of them would tell you that had they given birth in, say, Malawi, without all the easy access to ante and postnatal care, either they or their baby could have died, or suffered long term health complications.  In Ethiopia one woman in 27 dies in childbirth. These deaths are preventable. 

The low cost, tried and tested method of women's groups will work in Ethiopia, but Women and Children First need the funds to set it up.

You can help in so many ways:
I wish you and your loved ones, peace and health in the festive season and the coming year.

Best wishes




Ros Davies
Chief Executive
Our Radio 4 Appeal update – a big thank you
Thank you very much to all of you who contributed to help us raise our total of £9,345.85.
Please do watch this short video where you can listen to the stories of some of the mothers we have helped in Bangladesh.
You'll hear from Jyosna who's life, and that of her son Nurani, was saved by a loan worth just £15.